Gravwell is an exciting startup driven by a mission to help organizations achieve their objectives by harnessing the power of unlimited data analytics.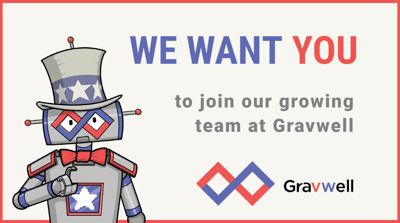 The company was founded in 2017 by security practitioners who were looking for a solution that could natively ingest large-scale, fully unstructured data quickly. No such tool existed, so Gravwell was purpose-built from the ground up to meet that need. (We love open source software, but Gravwell is a proprietary platform written 100% in Go with performance, scalability and security in mind)
Our systems engineering team consists of top-notch developers who create and maintain a codebase that's unparalleled in terms of capability or performance. Our UI/UX developers deliver this performance in ways that wow our customers and empower our users to explore their data like never before. One of our customers likened their experience with Gravwell to "sculpting with data", and we're passionate about enabling data exploration in new and exciting ways.
Our company culture encourages innovation and experimentation, with opportunities to have your expertise shape the future of the company. We aren't looking for cogs, we're looking for teammates.
Current open positions:
Technical Research & Support Specialist
Gravwell is seeking an experienced Technical Research & Support Specialist to assist with the implementation, management and support of our analytics platform, along with internal R&D efforts. The ideal candidate will be self-motivated and capable of working remotely on tasks which may be self-designated. Candidates are expected to be very comfortable working with many different log and data formats to rapidly extract, interrogate, and visualize data. In other words, this job is about doing cool blue team stuff with all manner of data sources, supporting customers, and publishing content because there aren't *nearly* enough blue-team resources out there. Full job description HERE.

To apply for any position, email a resume to careers@gravwell.io. Please indicate which open position you're applying for in the email subject line.
No other positions currently open.
That said... if you're awesome and you have awesome ideas to help Gravwell be more awesome.... then definitely email us.